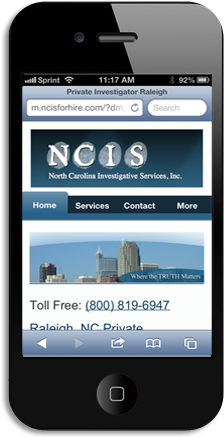 Lineberry Marketing is proud to add mobile website design to its Raleigh web design service line up. The benefits of having a custom mobile website for your business are endless. In addition to the expansion of your company's visibility and increased brand recognition, the mobile website creates new avenues for consumers to view your products or services on their smart phone, tablet or other mobile device. With a mobile site, customers are able to view your site with ease, night or day, without having to fire up the home or work computer.
If you currently have a website in place and love the look and feel of your site, Lineberry Marketing will customize a mobile website design for you that mirrors your current site, but makes it increasingly easier and quicker for visitors to read and navigate through the site. Also, our mobile websites give you a custom URL and mobile search engine marketing package that assists in your company's overall visibility on Google and the other search engines.
If your website address is www.Example.com, your new mobile website address would be m.Example.com. This structured url differentiates your mobile URL from your non mobile URL so that search engines, mobile devices and customers know it is a mobile version.
Please contact Lineberry Marketing for more information on our new service offering, mobile website design in Raleigh, NC.