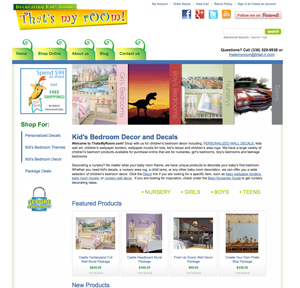 Lineberry Marketing designs shopping websites that can be fully customized for both new and established retail stores and small, medium and large businesses. These E-commerce websites can be used to sell handmade goods, equipment, supplements, clothing, home & garden, commercial products and more. If you are just getting your business up and running, it is crucial to find the right marketing company that will help you get started with an online shopping website, design, set it up and assist you with the management on an ongoing basis. Lineberry Marketing offers these same services to more established business as well, those already with a physical location that may have seen competitors' online success. It is never too late to supplement current sales with online sales or transition your business model to an online only retailer. Lineberry Marketing can help you through this process, as we have the design, technical and marketing experience necessary to help you be successful online.
The biggest benefit for business owners with shopping websites is the ability to reach national and international customers, without having the traditional, sometimes hefty, overhead costs of a traditional brick and mortar store. Your storefront in your hometown can only reach so many people, but through an effective shopping website design and Lineberry's marketing strategy, which may consists of a social media and search engine marketing, we can help you take your business to the next level through increased sales and the ability to reach more customers.
Contact us with any questions or to schedule a free consultation at (919) 830-2321.