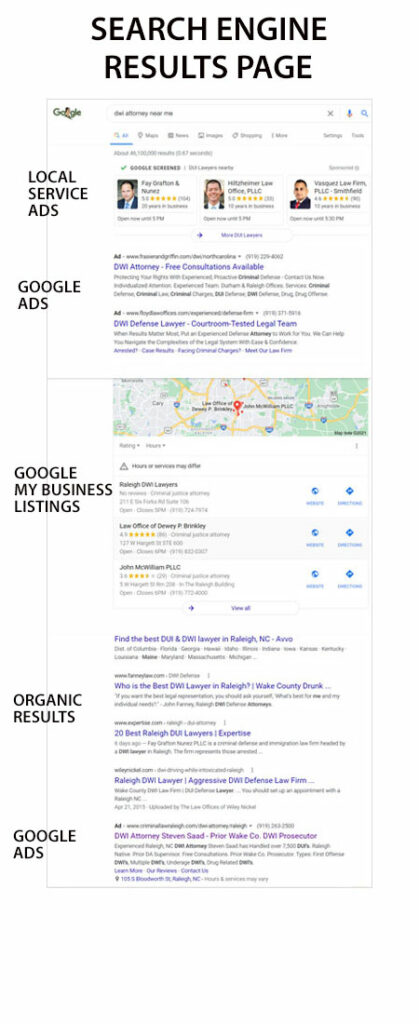 Google's Local Service Ads are shaking up search engine results pages (SERP) and disrupting the paid Google Ads market. Read on to learn about Local Service Ads, how they differ from traditional Google Ads, and if they are available in your industry.
What are Local Service Ads?
Local Service Ads appear at the top of search engine results pages for keywords relevant to the industries they are currently serving. For example, since Local Service Ads are currently available for defense attorneys in the Raleigh area, searching "DWI attorney near me" produced three images of lawyers with the name of their firm, their ranking, and the number of years in business. If you hover over the images, you see the hours and phone number listed.
These results are engaging because they include an image, reviews, and star rating, and they immediately connect users with the information they are looking for. Additionally, if you were to click on any of these listings, you would be brought to a page with more information and a direct call to action (phone or messaging depending on your settings and which device you are searching from).
These ads also often include a "Google Guaranteed" or "Google Screened" badge which enhances your potential clients' ability to trust you before they have even interacted with your company.
How Do Local Service Ads Differ from Traditional Google Ads?
The ad text of Local Service Ads (LSA's) cannot be customized as it can with Google Ads. In addition, there is no way to specify keywords that trigger your ad to show like with Google Ads. Instead, your LSA's will show for all searches relevant to your industry and the services you provide.
Another difference between Local Service Ads and Google Ads is the way you are charged. With Google Ads, you are charged every time someone clicks on your ad so you are paying for a potential lead. With LSA's, you are charged every time someone calls or messages you so you are paying for an actual lead. As you can imagine, a click in Local Service Ads is typically more expensive than a click in Google Ads, however, the cost per acquisition is typically lower for Local Service Ads and Google gives you the ability to dispute the charge if the lead was not in your service area or not in reference to services you provide.
How Can You Tell if LSA's are Available in Your Industry?
The quickest way to tell if LSA's are available in your industry is to go to google.com and type in any keyword phrases relevant to your industry. For example, if you are a defense attorney, type in "DWI attorney near me" or "defense attorney near me". LSA's are not triggered by every single keyword, so if you don't see any, try a few other keyword phrases first.
The failproof way that takes a little longer is to go to Google's Local Service Ads "Eligibility" page: https://ads.google.com/localservices/signup/eligibility and enter your state, zip code, and job category. If you do not see a category relevant to your industry, do not lose hope. This is a new feature Google is offering and it is expanding and changing every day. If you would like to run Google Local Service Ads and you do not see your "job category" listed, continue checking back once per week so you can be one of the first to run LSA's in your industry!
If you are looking for a lower cost per acquisition, you very well may want to consider shifting or expanding your advertising budget to include Local Service Ads. As with most paid ads, it is important that you work with a marketing professional to prevent unnecessary wasteful spending. At Lineberry Marketing Consultants, we are proud to offer Local Service Ads set up and management services a la carte. If you are interested in learning more, contact us today for a free consultation; our ultimate goal is to bring you more leads and we are standing by ready to help!
For more information, visit Google's Local Service Ads page.